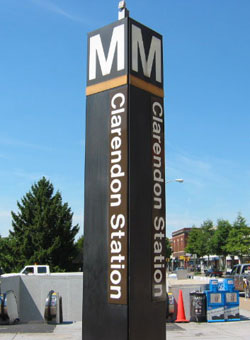 In Early 2010, the old CVS moved from it's former location to the new one in Clarendon across from Eventide on Clarendon Blvd, in order to make room for Garfield Park at Clarendon Village. Initially approved in June 2004, local residents may finally start to see construction.
The Washington Business Journal says the developer, Ironwood Realty Partners, was granted a $48M loan from Wells Fargo to begin construction in the next 3 weeks on the project. Garfield Park is expected to have the following makeup:
149 luxury apartments (141 apartments, 8 live/work units)
20,318 sq ft of retail space
2,256 sq ft of office space
295 underground parking spaces
3,725 sq ft of underground storage space
Fitness Center with Locker Rooms
Community Center
Garden with Gazebo
Courtyard Style Rooftop
Note: There are some discrepancies between Arlington's site on the specs and the developers. The ones cited above are from Ironwood Realty Partner's project description.