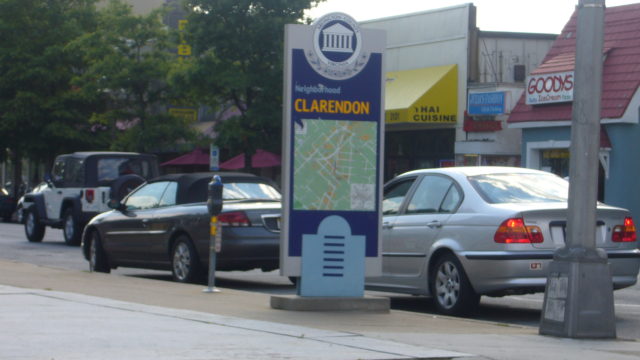 Seems like when you're driving around Clarendon these days, all you see are cranes, construction, or fenced off land waiting for someone to develop it. Well it appears 1 project is soon to be completed, and 3 more underway.
Clarendon Center: Expected to be completed at the end of 2010, the project consists of a luxury apartment building (244 units), over 220,000 sq. ft. of office space, and over 61,000 sq. ft. or retail space. pictured to the right
The Waverly at Clarendon Station: a construction project by Zom Companies, will features 185 rental units and retail space, located on N. Irving Street and Washington Blvd (across from Liberty Tavern and Northside Social). Groundbreaking is expected for the end of 2010.
Garfield Park at Clarendon Village: Initially approved back in 2005, construction has been halted due to market conditions. The site used to be home to CVS and a Thai restaurant, but currently is just a slab of concrete fenced off. The project will feature 149 residential apartments, office and retail space, and 295 parking spaces. The project is being developed by
Ironwood Realty. picture to the right
Views at Clarendon: Located near Sette Bello and The Hartford Condominium, the Views at Clarendon will be located where the current Church is on the corner of N Highland, N. Hartford, and 13th Street N. The project will reconstruct the current church and build an additional 116 rental units, of which 70 will be guaranteed affordable.
Looks like Clarendon will have to stick to the 5 current condo buildings: The Phoenix, The Hartford, Station Square, Clarendon 1021, and Clarendon 3131 for options to buy.