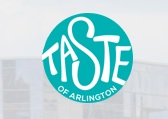 This Saturday, May 16th is Arlington's Neighborhood Day. Started in 1997, it's a way for Arlington Community building. The day is filled with block parties, festivals, and yard sales throughout Arlington County. Some groups organize community service projects like planting trees and cleaning up trash.
More information about Neighborhood Day can be found here.
Sunday, May 17th is "Taste of Arlington" Day
If you've ever wanted to know what a restaurant in Arlington has to offer – this is a must-attend event. With over 40 restaurants participating, this event promises to please any palate! The event will be held across from the Ballston Mall, beginning at Noon and ending around 5pm. Alcohol will be available until 4:30pm. Admission to the event is free, however, to sample the food and/or beverages, you must buy a booklet with tickets. Booklets have 8 "tastes" and may be purchased for $20 (or $25 the day of). For entertainment, vendor participation, and ticket information visit the Taste of Arlington website.