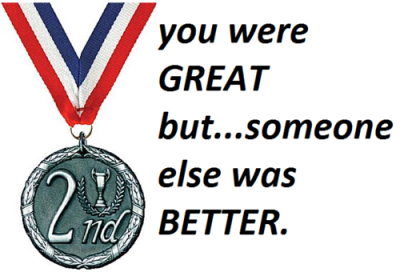 Did you know buyers can submit back up offers in Virginia? Let's say you missed out on a house, either you didn't "win" in a multiple offer situation or perhaps the property went under contract before you had a chance to see it. Either way, you're looking at being the #2 should the first contract fall apart.
How do they work?
You negotiate all of the terms of the contract including price, contingencies, financing, and potential close date (usually measured in days rather than a hard date). The contract is then in the waiting wings should the first contract become void. If the first contract actually closes, the back up offer just becomes paper to shred. However, if the first offer is voided, the backup offer instantly becomes the new ratified contract upon notice from the seller. Then all contingencies and terms start from that date of notice and closing would take place X days from then too.
Why would you want to be a backup offer?
If there were a lot of offers the first time, this would eliminate the need to compete again.
Are there any downsides?
Not really. The buyer of the backup offer can deliver notice at any time that the offer is being pulled and is no longer in play anytime until the seller delivers notice that it is now in effect.
Why should you take one as a seller?
You don't lose any more time if the first offer falls through. You instantly have a backup plan, and go right back to being under contract and working towards closing.