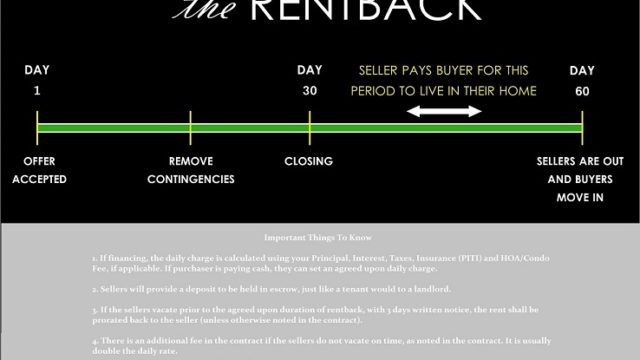 As a seller, sometimes there are a lot of unknowns in the future of your housing – such as when will you get an offer, when will you close, where will you move, etc. It's a juggling act! Sometimes your next move depends on the situation of THAT seller, so there's another wrench into the equation. One of the options you MAY have, if the buyer is flexible and willing, is called a post-settlement occupancy agreement. So let's discuss: what is a renback?
The jist: You close on the house and the buyers are officially the owners, however, you're still able to live there until your next move.
The Cost: General rule of thumb is there's a "security deposit" in the unlikely even there is damage between closing and the final walk-through, which is refundable to the seller once the final inspection is completed. You'll also pay a daily rate to the buyers for each day you live there. That "per diem" is at the daily cost to the buyers (their Principal, Interest, Taxes, and insurance, PLUS any condo/hoa fee, if applicable). It's up to the parties to decide if any of it is refundable if you don't actually stay all of the days you requested.
The Logistics: There's an additional form you'll need to complete so all parties have the terms in writing – # of days, security deposit, total cost, and final move out day. There will be 2 walk-through inspections: 1 before closing and 1 after the sellers vacate.