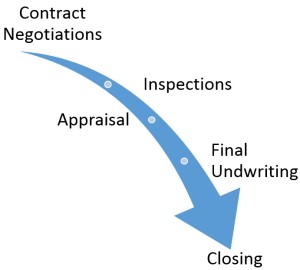 Contract Negotiations: Once an offer is submitted (or multiple offers), I will sit down with you to go over each detail about the offer(s) before you decide how to proceed. Once an agreement is reached, in writing, you have a ratified contract and your house will be off the market!
Buyer Due Diligence: As part of the contract, all parties will agree to certain terms, which most likely include home inspection, radon testing, appraisal, HOA/Condo document review period, termite inspection, well/septic (if applicable). There are specific time frames for each one and I'll help you navigate the timing and negotiations of each one.
Final Underwriting: Title search, seller loan payoff, buyer loan underwriting and financing approval, helping to arrange your move, removing staging items, transferring utilities, etc. This is when the contingencies have been satisfied and the final details of closing are being arranged. I'll make sure you get to closing on time.
Closing: The day you turn over the keys to the new homeowner and you get to move on to the next chapter in your life. Congratulations! In Virginia, you'll usually get the proceeds from your sale the next business day.